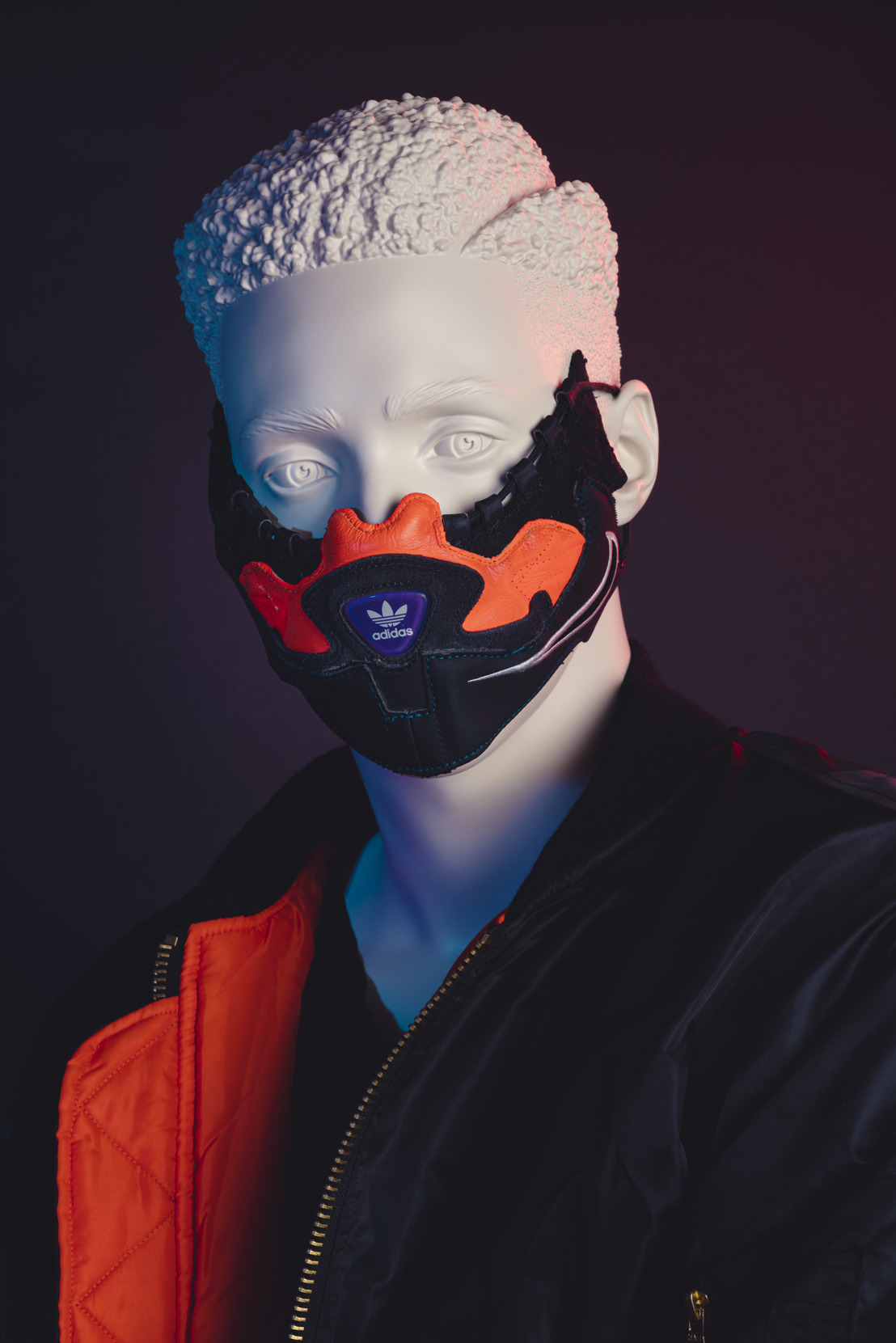 WeWantMore emphasises the importance of a designer's mindset in a post-corona society by reimagining old sneakers as face masks
The coronavirus has shaken up society to its core, driving people to rethink everything from socializing, working, travelling to shopping and working out. While the COVID-19 crisis is still expanding in some parts of the world, in others a post-corona society is gradually taking shape. A new normal is being defined. One that could benefit from a designer's mindset, according to WeWantMore. A statement the Belgian based design studio is making by reimagining old sneakers as expressive face masks.
Although the long-term impact of the virus on society is still unsure, it's clear a new set of rules will alter the playing field substantially in the coming months. Social distancing, mandatory face masks and contact tracing just to name a few. Unknown territory? Yes, but so were the internet, mobile phones and social media in their early days. WeWantMore believes it's a matter of adopting a designer's mindset when it comes to dealing with this altered reality. Rather than restrictions, the Belgian based design studio sees opportunities to challenge the status quo and rethink traditional roles. It's a chance to take things apart, reinvent them and make them relevant again within the new normal. An attitude WeWantMore illustrated by reimagining worn down sneakers as dauntless face masks.
"More than any other type of shoe, sneakers play a significant role in expressing people's identity. By dissecting the sneaker into its elemental parts and recreating it as a face mask, we changed its functional role, but the emotional one remains the same. It's still a way to show the world who you are." – Ruud Belmans, co-founder and Creative Director Spatial Design at WeWantMore
The idea for the face masks sprouted from Belmans' home office situation - and his own sneakers for that matter. It proves even the most trivial of objects can trigger a creative mind. Computer and design software were traded in for scissors, needle and thread. An uncommon switch in a digitally equipped design studio, but the act of creating something by hand turned out to be an amusing alternative to clicking a trackpad for once.

Although they offer some protection, WeWantMore primarily designed the face masks to highlight humanity's ability to adapt, not to come up with a valid alternative for a clinical face mask. It shows how reimagination and creativity can put a positive twist on even the hardest of times.
"Rather than restrictions, WeWantMore sees opportunities to challenge the status quo and rethink traditional roles. It's a chance to take things apart, reinvent them and make them relevant again within the new normal."
"By dissecting the sneaker into its elemental parts and recreating it as a face mask, we changed its functional role, but the emotional one remains the same. It's still a way to show the world who you are."
"Computer and design software were traded in for scissors, needle and thread. An uncommon switch in a digitally equipped design studio."  
---
Sneaker Mask 1
Adidas Falcon W, Nike Jordan Max AUra (GS),
Nike Air Edge Essential
Sneaker Mask 2  
Adidas X 17.3 FG Solar Yellow,
Saucony Jazz Original Vintage
Sneaker Mask 3  
Adidas Top Ten Hi, Nike Air Edge Essential,
Saucony Jazz Original Vintage
Sneaker Mask 4  
Arkk Raven Nubuck S-E15 Vibram,
Adidas Iniki Runner Core Black,
Saucony Jazz Original Vintage,
Adidas NMD R1 Red Black
Sneaker Mask 5  
Saucony Jazz Original Vintage,
Arkk Raven Nubuck S-E15 Vibram,
Adidas NMD R1 Red Black
Sneaker Mask 6
Adidas Iniki Runner Core Black,
Nike Air Edge Essential,
Saucony Jazz Original Vintage
Sneaker Mask 7
Nike Jordan Max AUra (GS),
Adidas Falcon W
---

Saar Dietvorst Press contact, Belgium