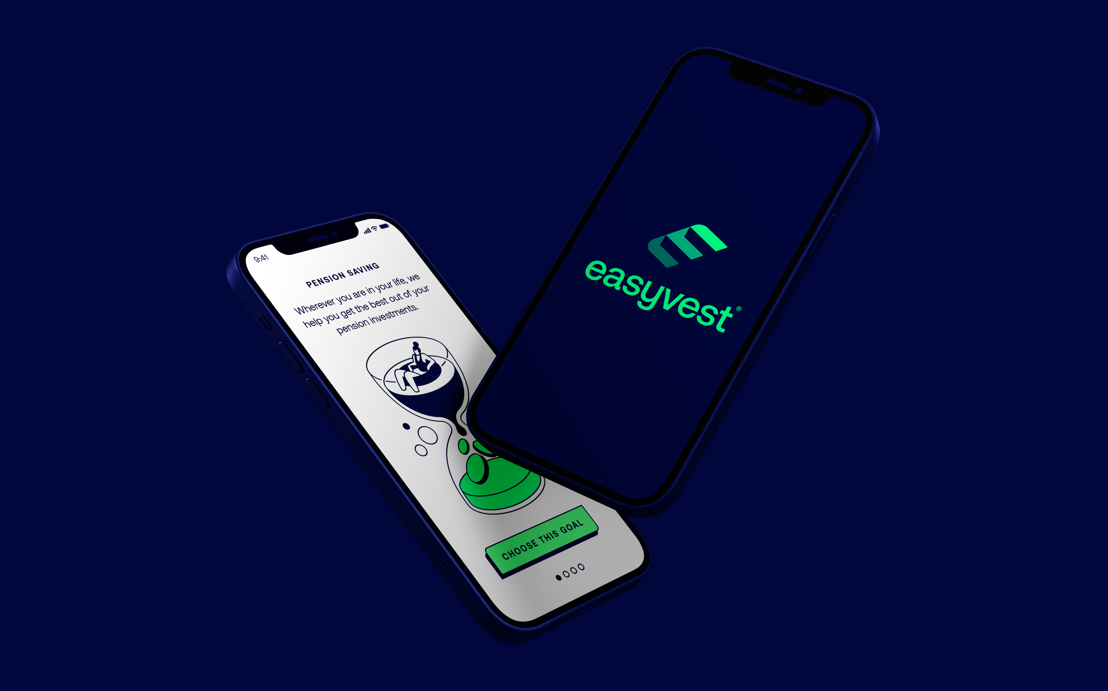 Belgian fintech scale-up Easyvest counts on WeWantMore for rebranding
Fast-growing fintech company Easyvest takes the complexity and uncertainty out of pension planning with an accessible digital platform that helps Belgians secure and grow wealth through and beyond their pension. To create stand-out in a market that isn't exactly know for its vibrant visual language, Easyvest selected WeWantMore to create a new brand identity and distinctive digital universe.
The legal pension system has been under pressure and people fear they might not have enough financial means to maintain their standard of living at retirement age. Easyvest takes the complexity and uncertainty out of investment and pension planning with an easy-to-use digital platform combining the power of technology and the friendliness of a financial advisor into one service. You can open and manage your account online and a personal Easyvest advisor will assist you when needed.
Yet, Easyvest doesn't just offer a simple and personalized way for Belgians to grow their hard-earned money. They deliver high return through a sound investment approach designed around one core conviction: "nobody beats the market". Developed by founder and CEO Matthieu Remy at Harvard, the passive investment approach of Easyvest is based on Nobel Prize winning theories and tends to outperform traditional wealth managers by 2% per year.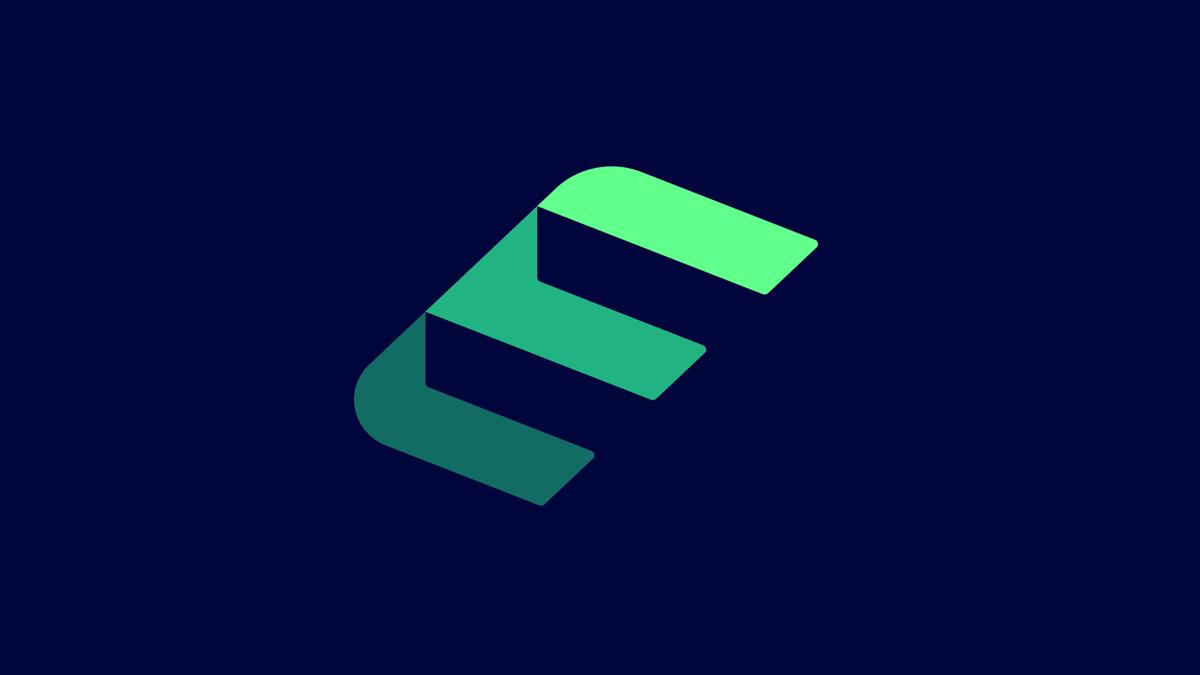 To further support their fast growth, Easyvest was in need of a new visual identity positioning the brand as a solid financial service provider and at the same time emitting the vibrant feel of a new and smart fintech alternative to traditional players in the market.
Step-by-step investing made visual
The cornerstone of the identity is the new brand icon. Inspired by taking the staircase, it symbolizes what Easyvest offers at it's core: a possibility to steadily grow your capital and provide a financial future for yourself. One step at a time.
The icon WeWantMore created for Easyvest plays with negative space to form three stairsteps. The opacity of the steps increases as they go up, which enhances the feeling of growth. Unlike most fintech apps, with blue and purple color schemes, WeWantMore chose to define Easyvest with a bright green brand color. This vibrant, almost neon, green has a fresh and digital vibe to it. At the same time green is a color that boosts confidence and trust.
Matthieu Remy, Easyvest Founder and CEO: "Before going into creative mode, WeWantMore talked extensively with our team to extract the true essence and personality of the Easyvest brand. Developing that intimate understanding first helped their creatives to be on point when presenting various concepts until we found the logo, colors, font, and visual universe that felt right to us."
A digital visual language with an analogue feel
To create a truly distinctive brand identity for Easyvest, WeWantMore added an analog feel to the digital product. The visual style is all about simplicity, clear lines and contrasting layers. The illustrative feel sets Easyvest apart from the competition. With the use of dark shadows WeWantMore created a step-like depth that perfectly ties in with the stairs concept. This layered approach creates a visual hierarchy in the composition, making elements move forward and backward.
Adding character and a helping hand
Illustrator Irina Bogdan created a witty world of drawings that highlight the human aspect of investing and add character to their brand. Easyvest is symbolized by a large helping hand that safely guides you through the exciting path of investments and pension planning.
Sébastien Greffe, Creative Director at WeWantMore: "The pension-saving market isn't exactly known for its innovative visual language, which is exactly why we opted to stand out and created a modern and vibrant brand identity that encapsulates the cleverness of the brand without losing credibility."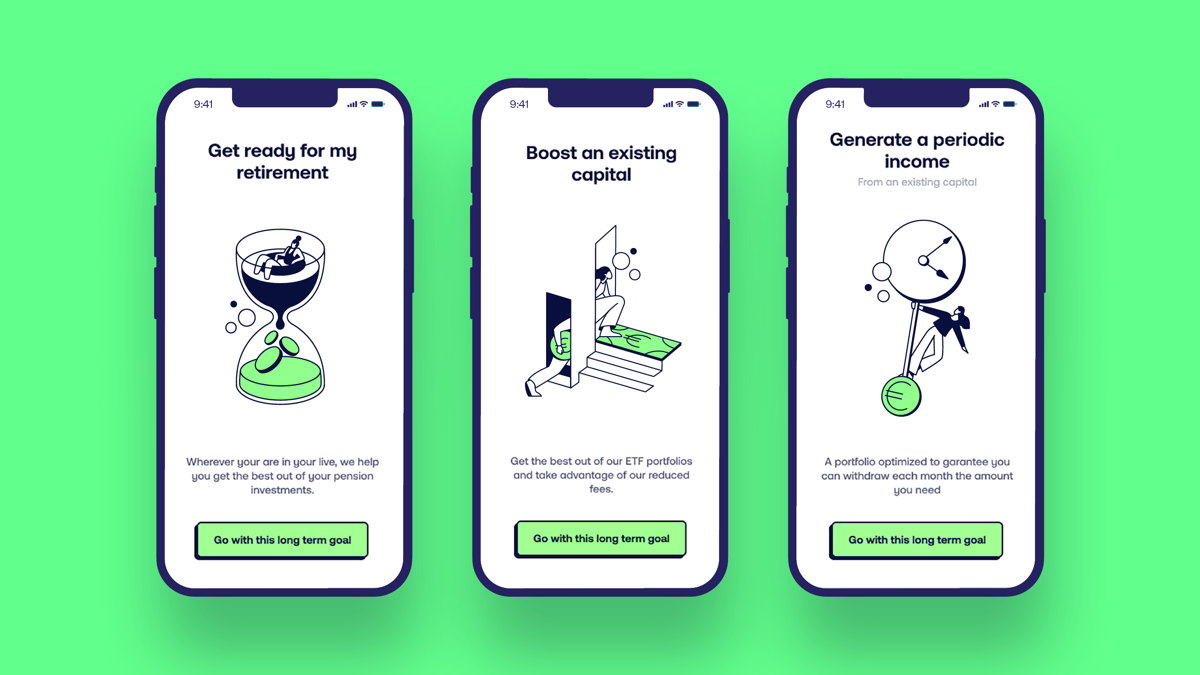 Saar Dietvorst Press contact, Belgium

Anne-Sophie Jonkers Press contact, Belgium